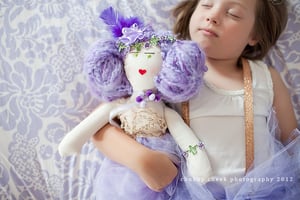 $

50.00 - On Sale
Purple and DREAMY miss TALLULAH is Every Girls DEAM dollie**
Tallulah wears a multi-layered sparkly purple tutu dress with vintage lace bodice, huge purple hair buns adorned with her favorite floral halo and feathered hair Candy**
Tallulah's the Ultimate play time friend and Every girls DREAM dollie**
18' tall poly stuffed this doll is not recommended for children under the age 3
4-8 weeks shipping ! lots of handstiching involved **Heirloom quality**
every dollie is completely custom and designed in our studio when purchased a $25. up charge on any change in eye color, hair , clothing etc. as hours of handmade craftmanship goes into each dollies clothing design.
No dollie is ever exactly alike but all are equally as GORGEOUS!
if you are needing any doll for a specfic date please notify seller via contact option a $25. rush fee will be added as well.
No refunds on custom made dollies!